A couple times a year our group(Window Covering Association of America-WCAA) goes to special events. Yves Saint Laurent (YSL), a fashion designer may seem an odd choice for home designers and workrooms, but there is much to be learned from each other.  One of the things I learned was, even YSL borrowed ideas from other artists and cultures.
I am not a clothes hound, but I lust for beautiful textiles, proportions and craftsmanship. Thus going to the Yves Saint Laurent show appealed to me on a different level than it would for many other people. I was looking for fun, inspiring ideas to share with my clients and construction techniques for home decor and soft goods, rather than clothing.
 
Look but don't touch! These activities can be torturous to me.  I need to touch and explore how things are done.  However the black suited museum workers wouldn't even let me wear my purse on my back, for fear I'd bump into a display, let alone allow me to touch anything. But the thirst for knowledge is strong!  Imagine for a moment the mystery of a hem held up by magic, then me on my knees on the floor, while I trying to look up an Yves Saint Laurent Dress to see how they made the hem without any stitches.  "Is fully lined?" No, well darn, it looks hemmed but where are the stitches. How did they do that?  That question remains unanswered.
However a couple of other questions were answered by the internet and Trish at the Textile Arts Council.  Several of us noticed a couple of fabrics and an embellishment we'd never heard of:
Barathea Wool: A closely woven fabric of worsted silk, rayon, cotton, or wool, having a pebbled surface. English in origin and originally made as a mourning cloth.  It is very hard wearing and still often dyed black.  In case you aren't familiar with the term worsted: Worsted wool is combed, leaving the long fibers before spinning to make a stronger, finer and more wrinkle resistant fabric.
Silk Gazar: A term which does not appear to have come into general use until 1967; this fabric was developed by Balenciaga, together with textile designer Gustav Zumsteg. It is a heavy, sized silk sheer of even texture.  Although it is too small to read here, this sketch says "gazar violet" inthe top right corner, with a swatch in the lower left.
A cabochon or cabachon, from the Middle French caboche (head), is a gemstone which has been shaped and polished as opposed to facetted.  These were used on several pieces.
Yves Saint Laurent is credited with the emancipation of women's fashion with his tuxedo look and the democratization for high fashion with his Rive Gauche line, when he used clothing elements of the masses.  YSL found inspiration many place, but the three main areas show cased at the de Young were Fine Artist, Foregin Cultures, and Nature.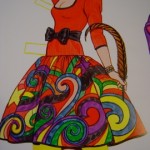 Fine Artists such as Picasso, Matisse, Vincent Van Gogh, Georges Braque, Tom Wesselman, Piet Mondrian were represented.  (image – Picasso Evening Dress, 1979)

Foreign Cultures gave flare to many of his designs as seen in his African, Moraccan, Chinese, Russian collections. (image Bambara dress, African collection, 1967)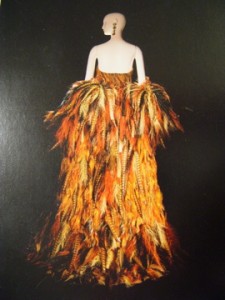 Nature provided elements through both flora and fauna as seen with his use of feathers,  leaves, horse hair, butterflies and silk flowers. (image pheasant & vulture feather coat,)
 
 
 
Many of the garments displayed in San Francisco were in Montreal exhibit, here is a link.
http://fibrequarterly.blogspot.com/2008/08/love-yves-st-laurent-in-montreal.html
Elements cross over Home & Fashion 
Interesting materials as seen in the feather coat above.

Tassels were found all over the place, belts, boots, coats and evening gowns.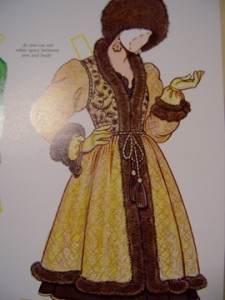 Contrast, Leading trim in fur with tassels, this Russian collection coat from 1976 had it all.
 
Leading edge loops and buttons would make for an eye catching detail on a window treatment. A Chinese jacket inspiration.
 
Cascaded tassels where small, medium, to larger tassels were nested and drawn together, I wish I had a picture. 
 
If you'd like to learn more about Yves Saint Laurent: http://en.wikipedia.org/wiki/Yves_Saint_Laurent_(designer)
YSL Laurent exhibit website: http://www.ysldeyoung.org/
Since photographs were not allowed.  My attached images are photos of postcards I bought (credits to Fine Arts Museums of San Francisco.) Illustration credits go to Tom Tierney in Yves St. Laurent paper dolls.
Show ends  April 5, 2009 at the de Young Museum, Textile Gallery